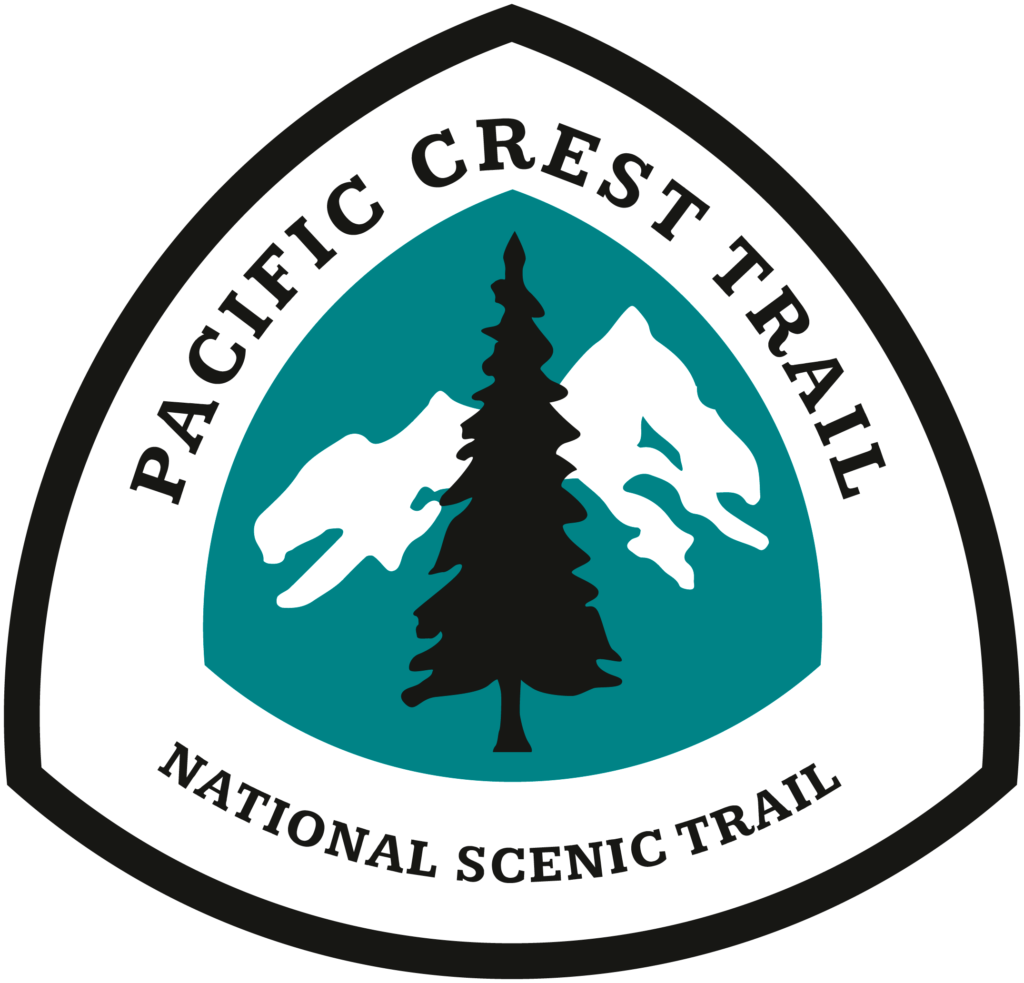 The Pacific Crest Trail (PCT) or officially the Pacific Crest National Scenic Trail is a long distance trail for hiking and equine travel. Roughly 4200 km (2600 mi) long trail has its southern terminus in California at Mexican border near the town of Campo and the northern terminus in Washington at the Canadian border, on the edge of the Manning Park. The trail runs through the states of California, Oregon and Washington.
The PCT traverses the Sierra Nevada and Cascade mountain ranges. The highest point of the trail is the Forester Pass in Sierra Nevada in 4009 m (13 153 ft) and the lowest point is on the Bridge of the Gods on the state line of Oregon and Washington near the sea level.
Most of the PCT thru-hikers are north bounding (NOBO), because this allows better weather window than the south bounding (SOBO) thru-hike. It is also possible to switch the hiking direction during the trip, which is called flip-flopping, and avoid snowy conditions on Cascades and Sierra Nevada. Some hike the trail in sections. Hiking the whole trail takes about six months. Thousands of people attempt the thru-hike every year and only about 20% succeed.
My attempt to thru-hike the PCT will start in April 2022 from the Mexican border.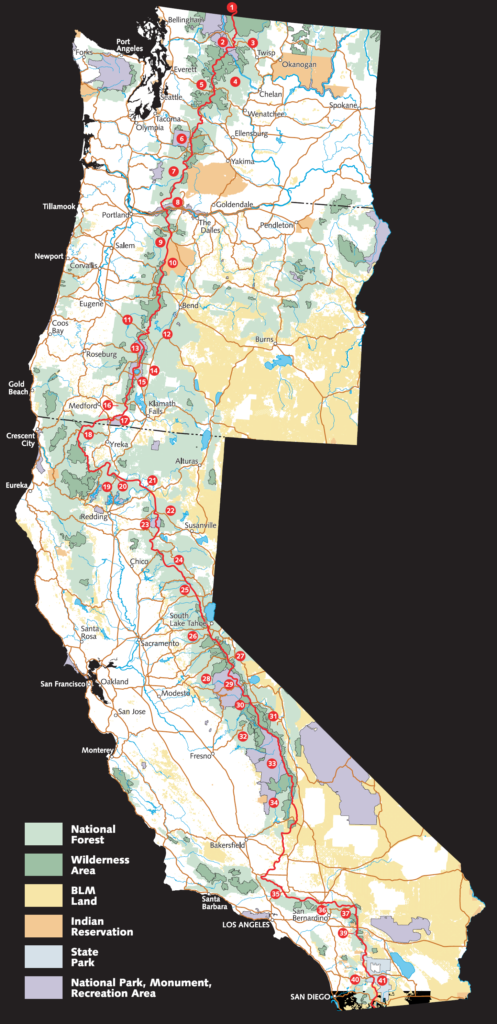 Pacific Crest Trail (PCT) eli viralliselta nimeltään Pacific Crest National Scenic Trail on Yhdysvaltain länsirannikolla sijaitseva noin 4200 km pitkä vaellus- ja ratsastusreitti. Sen eteläinen päätepiste on Meksikon rajalla, lähellä Campon kaupunkia Kaliforniassa ja pohjoinen päätepiste sijaitsee Kanadan rajalla Manning Parkin reunalla Washingtonissa. Reitti kulkee Kalifornian, Oregonin ja Washingtonin osavaltioiden läpi.
PCT ylittää Sierra Nevadan ja Kaskadien vuoristot. Sen korkein kohta on Sierra Nevadan Forester Pass 4009 metrissä ja matalin kohta on Bridge of the Gods Oregonin ja Washingtonin rajalla, joka on lähellä merenpinnan tasoa.
Suurin osa PCT:n läpivaeltajista kulkee etelästä pohjoiseen (ns. NOBO), koska näin sääolosuhteet ovat otollisemmat, mutta reitin voi kulkea myös pohjoisesta etelään (ns. SOBO). Osa myös vaihtaa kulkusuuntaa matkan aikana (ns. flipflop) välttääkseen vaikeita lumiolosuhteita Kaskadeilla ja Sierra Nevadalla. Reittiä vaelletaan myös osissa. Koko reitin vaeltaminen kestää noin kuusi kuukautta. Läpivaeltamista yrittää vuosittain tuhansia ihmisiä ja vain noin 20% onnistuu tavoitteessaan.
Minä yritän PCT:n läpivaellusta 2022, aloittaen huhtikuussa Meksikon rajalta.